As a busker Hayatonnu… focuses on creating harmony between dance and handbalancing.
After growing up in Japan, he has been living in Germany since 2012.
He reflects on two huge different cultural backgrounds in his lyrical story.
Hayatonnu… talks with his whole body with no words.
Eternal Longing (Plus)
'Eternal Longing' is a lyrical story about overcoming difficulties and loneliness.
Hayatonnu… combines dance and acrobatics routines to express the emotions that everyone knows.
What does it take to find happiness?

In 2021 he decided to add some scenes with more positive energy into it because of the current situation…
In his new piece 'Eternal Longing Plus', he is especially longing for the moments to find peace of mind with you…
Duration: 25 – 50 minutes
Language: a show with no words
Technical requirements: a flat floor and area min 4.5 m x 4.5 m x (height)4 m.
This show can be performed inside and outside for all ages.
It's possible to perform even in the heavy rain once a day at least.
The Premiere of 'Eternal Longing (Plus)' was held at an official event of Namysłowski Ośrodek Kultury – Dom Kultury in Poland on 24.07.2021.
https://cojestgrane.pl/polska/opolskie/namyslow/wydarzenie/55ux/busker-tour-w-namyslowie-hayatonnu/bylo
Immediately after that he performed at the other official events as well in Przeczów and Zgorzelec. The 'Busker Tour' was supported by Małgorzata Węglarz (Director of International Festival of Street Art BuskerBus).
👇 The images (pictures) 👇
https://photos.app.goo.gl/hFRgesRcLnsrf3Q66
Dates
2023
・Das Kirschblütenfes in Meerbusch in Germany 🇩🇪 (◎April 23th◎)
・Japan Tag in Düsseldorf in Germany 🇩🇪 (◎May 13th◎)
・22. Internationales Kleinkunstfestival Insel Usedom 🇩🇪 (◎May 26th – 29th◎)
・URKA Busker Night Bergamo 🇮🇹 (◎June 10th◎)
・Floating Castle in Slovenia 🇸🇮 (◎July 27th – 30th◎)
★https://www.floatingcastle.si/sl/floating/2023/lineup/Hayatonnu-Eternal-Longing-Plus/
・PUF festival in Slovenia 🇸🇮 (◎August 1st◎)
・OZORA festival in Hungary 🇭🇺 (◎August 1st – 5th◎)
・Kinder Expo in Krefeld in Germany 🇩🇪 (◎August 20th◎)
・Friedensfest in Weimar in Germany 🇩🇪 (◎Sep 2th◎)
2022
・Das Kirschblütenfes in Meerbusch in Germany (◎April 24th◎)
・Parktheaterfestival Lokeren in Belgium (✖postponed to 2023…✖)
・Japan Tag in Düsseldorf in Germany (◎May 21st◎)
・Querbeet Kulturfestival in Gelsenkirchen in Germany (◎June 17th◎)
・The district executive Apolda-Weimar of the party DIE LINKE in Germany (◎June 18th◎)
・Festival v Ulicích in Ostrava in Czech Republic (◎June 25th and 26th◎)
★https://www.artandlifeostrava.cz/busking
・Internationales Straßen- und Varietéfestival Bamberg Zaubert in Germany (◎July 15th – 17th◎)
・Busker Tour in Żary in Poland (◎Aug 6th◎)
★https://stayhappening.com/e/busker-tour-w-%C5%BBarach-hayatonnu-japonia-plenerowe-spotkania-ze-sztuk%C4%85-E2ISUBAV56G
・Aufgetischt St.Gallen in Switzerland (◎Aug 12th – 14th◎)
★https://aufgetischt.sg/kuenstler/
・BuskersÀMorges in Switzerland (◎Aug 17th – 20th◎)
★https://buskersamorges.com/programmation/
★https://youtu.be/AyyloHTQA8U?t=198
・ Na Kalha – Street Art Fest in Portugal (◎Sep 9th – 11th◎)
★https://www.nakalha.pt/
・Nuits des Lampions in Luxembourg (◎Sep 15th – 17th◎)
★https://ndl.lu/#programme2022
2021
・Festival v Ulicích in Ostrava in Czech Republic (June 25th and 26th)
★https://www.instagram.com/p/CQ3LfPPow-V/
・An official event in Krotoszyn in Poland (July 21st)
・Busker Tour in Namysłów and Przeczów in Poland (July 24th)
★https://fb.watch/71pwkCrwcW/Three shows in Zgorzelec in Poland (July 25th)
★https://www.facebook.com/media/set?vanity=buskertour&set=a.158093423061513
・Duisburger Kinder Kultur Festival in Duisburg in Germany (August 8th)
★http://kinderkulturfestival.de/programm-2021/festivalgeland/
・Buskers Strassenfestival Vaduz 2021 in Lichtenstein (September 18th and 19th)
★https://buskers.li/
★https://www.vaterland.li/liechtenstein/kultur/buskers-zeigen-ihre-kunststuecke;art175,461165
・AMPLIFIER FESTIVAL – New Cabaret & Street Art in Slovakia (September 24th to 26th)
★https://amplion.eu/
★https://amplion.eu/assets/FN_AMPLION_2021.pdf
—AWARD ⭐️SPECIAL AWARD⭐️—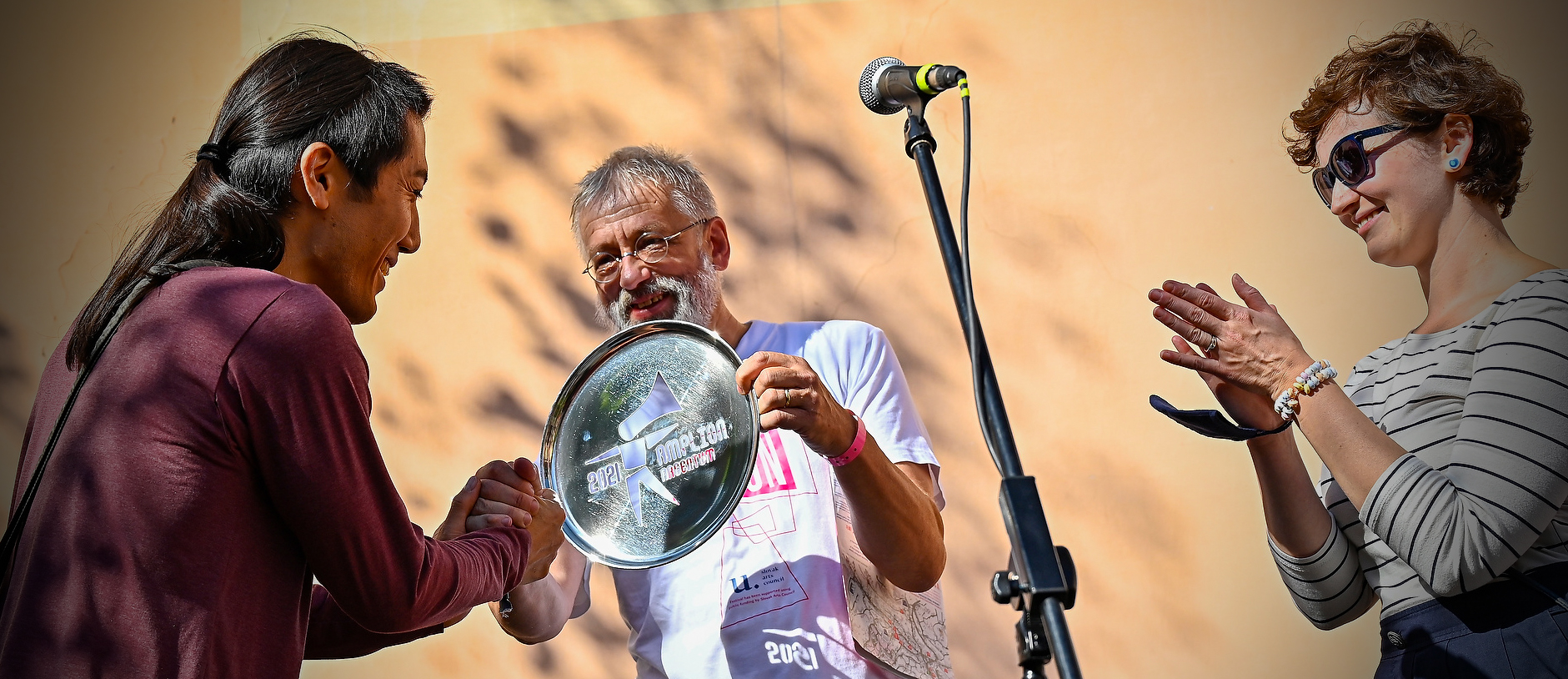 21. Internationales Kleinkunstfestival Insel Usedom (Cancel)
Veroli Festival – 21° in Italy (postponed to 2022)
2020
・International Festival of Street Art BuskerBus in Poland
★https://youtu.be/jiqOU0LjP4I
2019
・STRTFSTVL Showcase in Netherlands
・Porikoro-Park Street Festival in Japan
・De Gevleugelde Stad Ieper in Belgium
・Meerbuscher Kirschblütenfest in Germany
・Japan Tag in Düsseldorf in Germany
・Japan Festival in Munich in Germany
・Jubiläums THEATERacker in Osnabrück in Germany
・International Festival of Street Art BuskerBus in Poland
★https://youtu.be/Vjc2arFtM5s?t=159
・Frivolus in Koper in Slovenia
・Sakahallo Street Festival in Japan
2018
・Nagoya Daidogei Festival – Contest –
—AWARD ⭐️2nd Prize⭐️—
・Kinder Expo in Krefeld in Germany
・Ise Natsu-Machi-Matsuri Festival in Japan
・Buskers Fest České Budějovice in Czech
・Di Piazza in Piazza in Cosenza in Italy
★https://youtu.be/OYPxJRysPiQ?t=37
・Nuit Des Lampions in Luxembourg
・Daidogei World Cup in Shizuoka in Japan
2017
・Heaven Ginza Street Festival in Japan
・Mojoca Festival in Moio Della Civitella in Italy
・DAS FEST in Karlsruhe in Germany
・Le Fiere Del Teatro – Sarmede in Italy
★https://youtu.be/fcAIdc5F414?t=131
・Chuo-City Marugoto Museum Event in Japan
・Heaven Tokyo Street Festival in Japan
・Daidogei World Cup in Shizuoka in Japan
★https://shizuokahappy.com/enjoy/event/22379/
Recommendation
Hayato is a hard-working person, respectful to the organisers, volunteers, other artists, and the audience. He performs at his best not only for big crowds, but he shows appreciation for every single person that comes to see his show. Last year he won everyone's heart over when he performed in heavy rain for just a few people who he convinced to stay with both his art and attitude.

Hayato has everything an organiser looks for when selecting artists. He is not only a world-class dancer with a beautiful show, but he is also a lovable person with a great sense of humour that everyone wants to be around and call a friend.

Małgorzata Węglarz, artistic director, BuskerBus Festival